PACE is pleased to invite you to its annual meeting, which this year will be hosted by its Belgian member Bepact. You can participate both in real life or virtually, please confirm your preference by replying with your name and organization to info@paceurope.eu. More information on the panel guests will follow shortly.
AGENDA & INFORMATION PACE EVENT
hosted by BEPACT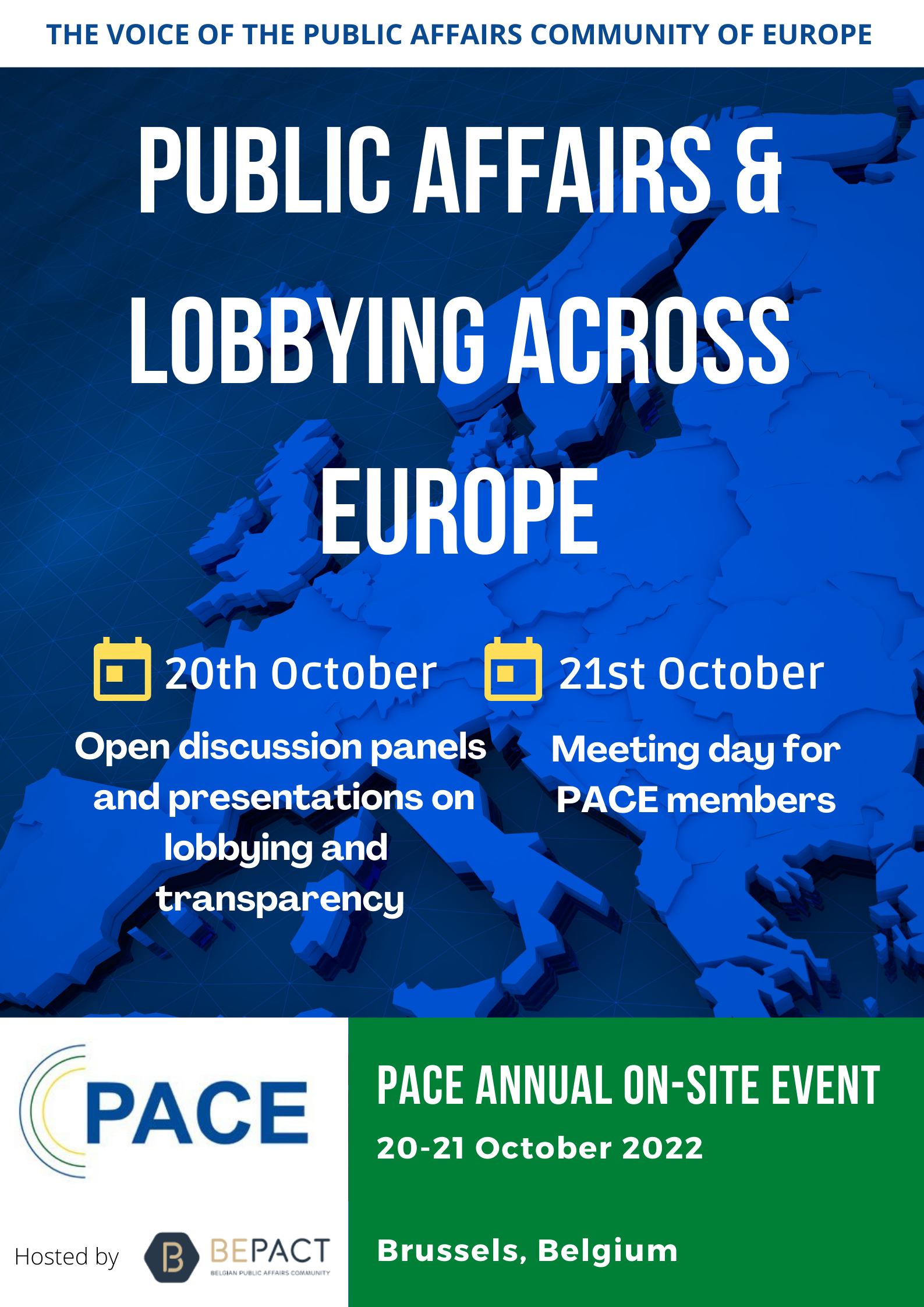 WHEN?
20th and 21st October 2022
WHERE?
Day 1: Proximus facilities: near Brussels North station
Day 2: BNP Paribas Fortis facilities: near Brussels Central station and Warandepark
20 October 2022
PACE EVENT OPEN TO PUBLIC AND AVAILABLE ONLINE
To connect online email info@paceeurope.eu
12:00: Welcome & Introduction by BEPACT president – Stefaan Fiers
12:30 – 13:30: Lunch
14:00 – 15:30: Panel discussion on the evolution in transparency regulation and practices and the best way forward (can be followed in person and digitally).
• Moderator: Mihael Cigler – president of the Slovene Association for legal lobbying
o Michiel Van Hulten – director of Transparency International EU
o Dominik Meier – president of de'ge'pol
o Alvaro De Elera – member of cabinet Vera Jourova
o Isabelle De Vinck – president of EPACA
15:30 – 16:00: Coffee break
16:00 – 16:45: The road towards the Belgian EU-presidency in 2024: keynote speech and discussion. Hendrik Van de Velde, coordinator of the Belgian EU presidency.
17:00 – 18:00: Cocktail & Network offered by BEPACT.
21 October 2022
PACE EVENT EXCLUSIVE TO PACE REPRESENTATIVES AND IN PERSON ONLY
10:00 – 10:15: Opening words of PACE president – Maria Rosa Rotondo
10:15 – 11:45: Exchange of ideas: Introduction of a diverse set of projects and initiatives in different fields: how to start-up a project, get finances, organize yourself etc.
o Women in Finance, improve awareness on diversity and inclusion, promoting gender balance on all levels in the financial sector – Claire Godding
o DigitAll, alliance for digital inclusion in Belgium – Linde Verheyden
o EPACA, European Public Affairs Community –  Meave Cosgrove
11:45 – 13:00: Lunch & Closing Remarks, send-off by PACE & BEPACT